Who We Are: Rachael Bender, Co-Founder and Managing Editor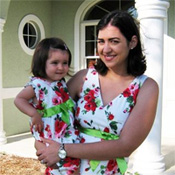 Rachael's passion is for developing quality resources that help make a difference with "real-life" solutions. To meet those goals, she's the editor of BlueSuitMom.com, Executive Producer of Mom Talk Radio, Vice President of BSM Media, President of Bender Consulting (a technology and Internet consulting firm) and Past Presdident of the Fort Lauderdale/Broward County Chapter of the National Association of Women Business Owners. Rachael brings a vast range of Internet strategy, creativity, web design and technology experience to BlueSuitMom.com. Her award-winning design work can be seen on numerous Web sites including Holy Cross Hospital, Mom Talk Radio, We Take the Cake, Tarter Farm and Ranch Equipment, Weber's Cabinets and Jorj.com.

Rachael is currently working on her first book, From Field to Table about maintaining a healthy lifestyle for your family by growing your own vegetables food, shopping at organic farmer's markets and cooking with your kids.

Rachael has been featured in and contributed to several books including: "The Women's Home-Based Business Book of Answers," "Marketing to Moms: Getting Your Share of the Trillion Dollar Market," "Girlwise: How to Be Confident, Capable, Cool, and in Control," "Parent's Guide to Business Travel: Practical Advice and Wisdom for When You Have to Be Away," "At Home in the Kitchen" and "At Home Entertaining."

She is a frequent speaker on enterprenuership and a media resource for print and radio. She has been featured in Smart Money Magazine, Small Business Computing, Miami Herald, Austin American-Statesman, The Knoxville News-Sentinel, Fort Lauderdale Sun-Sentinel among others.

She was a 2009 Southern Living Magazine Mama Blogger of the Week

Rachael is the chair-elect of the Presidents Assembly Steering Committee for the National Association of Women Business Owners. Rachael was the 2006 – 2007 president for the Fort Lauderdale/Broward County chapter of NAWBO. She sat on the 2009 National NAWBO Nominating Committee. She was the Communications Chair for the 2008 & 2009 Go for the Greens conferences at Disney.

Prior to BlueSuitMom.com, her contributions at Cox Interactive Media included GoPBI.com, SoFla.com, LightningStalker.com and Sunfest.org.

Ms. Bender not only brings strong technology experience to BlueSuitMom.com but a background in journalism as well. She spent several years working with and is published in Florida Today as well as on Discovery.com and The Learning Channel.

Rachael has a Bachelor's Degree in Journalism with an outside concentration in Computer Science from the University of Florida.

In her spare time, she enjoys training for triathalons, hiking and mountain biking with her husband, David Bender, who owns Bender Construction. She is the mother of one active toddler. Contact Rachael via email

Click here to find out more about the rest of our team.