Bar/Bat Mitzvah Planning Guide
By Paula Levenson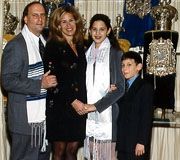 Your child's Bar/Bat Mitzvah is a special day you begin to think about on the day your child is born. It's thirteen years in the making and it takes planning, planning and more planning! Organization is the key to a memorable b'nai mitzvah celebration and planning can actually get underway as early as three years from the actual date. And whether you select a simple reception to celebrate your child's passage into the rites of Judaism or an elaborate evening affair for 300- the goal is the same. You want a memorable and meaningful event that you and your family will remember for a lifetime.

Hints for Successful Bar/Bat Mitzvah Planning:

2-3 Years Before the Event:
1. Contact a synagogue or temple when your child is less than ten years old. Learn about the process and timeframe required to prepare your child for the event. Formal Bar/Bat Mitzvah lessons usually begin one year prior to the scheduled date.

2. Decide on the style of the event- one that suits your lifestyle and budget

3. Contact potential service providers, caterers and entertainers. Word of mouth is usually the most reliable source for narrowing down your choices. Decide if you want to use a party planner who will coordinate all of the service providers for you.

One Year Before Event:
1. Book location, entertainment, photographer/videographer, and party decorator (florist). All will require non- refundable deposits so make sure that you are certain about your choices.

2. Select a "theme" and/or color scheme for the event. Include your child in this aspect of the planning- keeping his or her preferences in mind.

3. Help your child decide on a community service or bar/bat mitzvah project idea. Many families find that the meaningfulness of the event is enhanced when a "tzedakah" project is established.

6 Months Before Event:
1. Develop a guest list with current addresses.

2. Select and order invitations. Order thank you notes, direction cards (if needed), napkins and guest towels at this time. Always order more invitations than you think you are going to need. Reprints of small quantities can be costly.

3. Keep your eyes open for interesting stamps-they add a nice touch to the envelope and reply card.

4. Decide on centerpieces for tables and any other decorations. "Sign in boards" are a popular bar/bat mitzvah element and should be ordered at this time (usually through the florist/decorator).

5. Choose party favors for guests. These are usually theme and color related and are given to the younger guests at the celebration.

6. Arrange out-of-town guest accommodations . Many hotels offer special rates for large blocks of rooms; so inquire in your area.

7. Stay in close contact with your child's Bar/Bat Mitzvah tutor to keep abreast of your child's progress. Keep a calm encouraging attitude towards your child as he or she progresses through the course of study.

8. Decide if you will be offering other events throughout the weekend. Many families invite close friends and family to a Friday Evening Shabbat Dinner before the big event and a Sunday brunch.

Three months Before Event:
1. Finalize all party selections such as menu, centerpieces, and decorations.

2. Make appointments for hair stylists, barbers, and manicurists as needed.

3. Order personalized yarmulkes.

Two months before Event:
1. Mail invitations- number the back of the response cards to correspond to your guest list to ensure accuracy.

2. Create Candle-Lighting Ceremony. Work with your child to ensure that you are writing something that he or she feels comfortable reciting at the big event.

3. Coordinate the entertainers and caterers to ensure that "time frames" match. Develop a time-line for the event that includes formalities, horas/dances and food services.

4. Encourage your child to practice his or her service out loud.

One month before Event:
1. Reconfirm all service providers

2. Develop a seating plan

3. Coordinate a rehearsal time with your temple. Many temples allow you to video this event in lieu of the actual service.

4. Arrange hospitality baskets for out-of-town guests. Include a schedule of events and detailed directions.

5. Coordinate out-of-town guest transportation to and from airports and events.

One week before Event:
1. Confirm final guest count with caterer. Remember that once you have guaranteed a number, this is what you will be responsible to pay for even if fewer guests show up.

2. Adjust seating arrangements

3. Pack an "emergency kit" to keep handy- sewing kit, extra makeup, hairbrushes, stockings etc.

More Advice and Guides: For more guidance in planning your celebration we recommend the following books:
• The Complete Bar/Bat Mitzvah Book: Everything You Need to Plan a Meaningful Celebration - This is a practical guide about planning and preparing both spiritually and physically for the coming-of-age celebration.

• The Complete Bar/Bat Mitzvah Planner: An Indispensable, Money-Saving Workbook for Organizing Every Aspect of the Event-From Temple Service to Reception - This is a workbook for planning your celebration. Also includes money-saving advice.


Email this story to a friend