BlueSuitMom's Great Finds

BOCA BETH Language Learning Program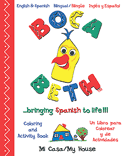 Research has shown that the optimum time to introduce a child to a second language is well before their 6th birthday. Boca Beth - the leading Spanish/English only language learning program is sweeping the nation with upbeat sing-along CDs, engaging DVDs, puppets, coloring/activity books and more. Educator-created and classroom-tested, the BOCA BETH Program provides busy families with an easy and fun solution to learning a second language.
In Boca Beth DVDs a bird hand puppet takes viewers on a bilingual tour of the home, identifying objects like a rubber ducky and bathtub in both English and Spanish. More than 100 words are spoken in both English and Spanish and displayed on screen. The hand puppet can be used to further engage the child by having them play with the puppet and "talk back" to Boca on screen. The Boca Beth product line also includes a music CD called "My First Songs in Spanish" which contains songs sung in both English and Spanish. While these products aren't going to teach your child to be fluent in Spanish, they do start setting the path to learning a second language.

Buy Boca Beth Products in BlueSuitMom's OpenSky Store!
Boca Beth Bilingual Backpack - $90
Contains two bilingual DVDs, a BOCA puppet and three upbeat music CDs.
Also includes a 44 page coloring book and two bright colored music shakers.
Provides an introduction to more than 700 words and 200 phrases.
Boca Beth Beginner Set $35
Contains a DVD, CD, BOCA puppet, 40 page coloring book and an instruction guide.
Don't miss your child's window of opportunity for language learning - visit www.bocabeth.com today to sample the music & movies free, receive bilingual language cards free and give your child the gift of a second language.
> More BlueSuitMom Great Finds