BlueSuitMom's Great Finds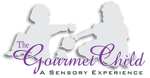 The Gourmet Child
The Gourmet Child is a service that interacts with the children through hands-on culinary preparation of gourmet food. Through these sessions children will learn life skills through the five senses, fine dining skills, proper social skills, and also will value the concept of teamwork.
The Gourmet Child works with children in a very safe, structured, and organized environment where all skills taught will be age appropriate.
The Gourmet Child
18258 Muir Woods CT
Fountain Valley CA 92708
(714) 849-9164
(714) 425-5425
www.thegourmetchild.com
> More BlueSuitMom Great Finds