BlueSuitMom's Great Finds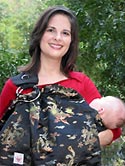 ZoloWear
The prettiest baby sling ever! We know working moms want to hold their baby close and never let them go. So a beautiful, comfortable sling lets you keep them close every minute. You'll drool over this functional sling-style baby carrier in luscious silk brocade. You'll look like a real knock-out in a ZoloWear sling whether taking baby (and Fido) for a walk around the block or accepting your first Academy Award.
Designed for both comfort and style, ZoloWear slings have an inset zippered pocket to hold lipstick, keys, cash, phone, or an extra diaper and wipes. And ZoloWear knows that real babies wiggle, squirm, and make real messes, so the "tail" acts as a cover-up or burp cloth. ZoloWear offers cotton or silk slings, pouches, and gorgeous diaper bags. Keep baby close and comfy. Keep mommy looking fabulous. Keep the compliments coming!
ZoloWear, Inc.
1016 Harwood Place
Austin, Texas 78704
Phone: 888-285-0044
Online: zolowear.com
> More BlueSuitMom Great Finds