Creating the perfect birthday party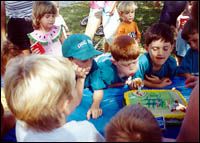 Perhaps the fondest memory that most adults have of their childhood is a special birthday party or family celebration. What engraves those moments into our mind might have been a person present, the decorations, a fun activity or a repetitive event. Whatever the contributing factor of our memory, the consistent element is our participation in the big day. For that reason, involving our child as much as possible in the planning of the perfect party tops our checklist.
Let your child be as involved as possible
The anticipation of the event is half the fun. Ask your child for suggestions on decorations, theme, invitations and guest list.
Consider your budget
By the time you send invitations, purchase favors and feed children, birthday parties can get expensive. Decide what you want to spend and let that facilitate the number of guests to invite, location and food necessary.
Select a theme
Look at the books your child reads, the sports he plays or the latest toy craze for ideas. Old traditional themes are making a comeback: pirates, princesses, knights and tea parties.
Decide on a date and place
There are more places offering birthday parties then there are children with birthdays in June. Look in your look phone book under parties or consult a regional parenting publication for ads. From bowling alleys to restaurants, everyone seems to be offering birthday packages. Make certain you understand what comes along with the price per child. See our list of questions to ask.
Pick a party time
Two hours is a good rule of thumb. Although Saturday afternoons are a popular time, for children not participating in team sports a good alternative is Saturday morning 10am-Noon when everyone is fresh.
Select invitations and mail
If time permits, you might try making your own invitations. Your child will love working with you and you'll impress the other moms. Not creative? Let us give you an idea or two.
Consider party activities
It's always wise to keep your guests busy. Schedule a couple easy take home craft projects and a few games for the party. Get ideas on our party activities page. Leave about 30-45 minutes for eating and cake time. Do yourself a favor and leave the unwrapping of gifts for after the party when you are alone with your child. There will be no lost pieces, missing cards or an embarrassing "we already have this toy" from your guest of honor.
Decide on decorations
Balloons are inexpensive, festive, colorful and go great with any theme. Try renting a helium tank to save a few dollars. Allowing helium balloons to fill a ceiling area with curly string hanging freely is a fun way to add a festive flair especially in a big community center or conference room. A piņata can serve as a decoration and party activity.
Prepare party favors
Browse a dollar store and you might come upon an inexpensive gift that blends perfectly with your theme. Kites go well with a party in a park and buckets with shovels are great for a beach bash. You can give them out at the beginning of the party to create an activity guaranteed to pass the time.
Select food
Depending upon the time of day, you probably won't need as much as you think. Children having fun find it hard to stop to eat and many will pass on the delectable. Order half of what you think you'll need particularly if the party is in the middle of the afternoon.
Ready the camera
Find and film up your camera well in advance. You won't remember the day of the party, so check it off the list early.
Review our list of party tips
Check out our tips to ensure you'll have as much fun as your guest.
Also see:
• Party planner list
• Printable guest list form
• Party schedule suggestions