BlueSuitMom's Working Mom Must-Haves
For Babies & Toddlers

BurpieBlocker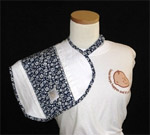 Burp cloths are indispensible when you have a newborn - especially one prone to spit up, but most moms have discovered the downside to burp clothes is that they can move or fall off your shoulder. One working mom found a solution and created the BurpieBlocker. It's a burp cloth with a twist - an elasticized neck strap to hold it in place. The BurpieBlocker is large enough to give good coverage eliminating the chance of getting a "trophy" from your little one. We also love that the BurpieBlocker comes in a variety of fabrics making it stylish as well as useful. It's definitely a "must-have" product for any mom with a newborn. Available online at http://burpieblocker.com for $15 for one, $25 for a set of two.
BlueSuitMom Discount: Use code BSM10 for 10% off your BurpieBlocker order.
Dapple Toy Cleaner

It is amazing how quickly toys can get dirty from sticky little hands and mouths. Cleaning baby toys just become a lot easier with the new Dapple Toy Cleaner. This spray-based cleaner is made from naturally-derived ingredients that are biodegradable and environmentally safe. The cleaner doesn't use any parabens, phthalates, SLES, bleach, alcohol, dyes, synthetic fragrances or other harsh chemicals. Their motto is "Just spray, wipe and play." Other products that are sold as non-toxic carry the warning that if swallowed contact poison control, not Dapple. The product warning says if swallowed drink a glass of water. We like that Dapple says that toys can be sprayed, wiped clean and then can go right into babies mouth. We consider this a Must Have product for all moms with small kids. Dapple is available at www.dapplebaby.com or at www.diapers.com
BlueSuitMom Discount: Receive $10 Off your diapers.com order with code BABYSAVE01
Naturally Better … Peter Rabbit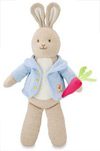 We love that this soft plush toy is made machine washable. So many children's soft toys are only surface washable which is more time-consuming and makes us worry that the toys our baby puts in its mouth aren't getting really clean. Peter Rabbit also does not have any plastic parts that could come off and become a choking hazard. In addition it is made from certified organic cotton and eco-friendly materials. If that isn't enough, these products are produced in accordance with The World of Beatrix Potter's Corporate Social Responsibility charter which sets standards for ethical working conditions for the people who make Beatrix Potter products and are better for the environment. Peter Rabbit is available at FAO Schwartz retail stores and online at FAO.com for $30.

BlueSuitMom Discount: 20% Off orders over $120 with code BFSALE or Free Shipping on Orders above $90 with code BFSHIP

CAT Workbench
The CAT Workbench gives your little builder the tools they need to play for hours. You can either turn the tub into a tyke-sized workstation and use it as a building platform or you can use the top lid on floor as a base to build on. The CAT Workbench features pretend tools including a screwdriver, hammer and wrench and 40 building blocks. It also comes with stickers that you can use to customize the building blocks. The tub doubles as a practical storage container which is large enough to store additional Mega Blocks. Available at BJ's Wholesale Club and BJs.com for under $30.

eebee's adventures Soft Books
The eebee's adventure line of cloth books encourage interactive play for babies 9 months and up. Our favorites were Laundry Time and Have a Ball. In Laundry Time your child gets to learn the in and outs of doing laundry. Your child can take the soft towels out of the laundry bag and then stuff them into the washer. Instead of just having pictures showing towels there are little mini towels attached to the book. On another page your child can hang pajamas on the clothing line. The clothes are permanently attached to the book with a string so they won't get lost and are "hung" on the line by Velcro. In Have a Ball your child doesn't just read about hiding a ball under a pillow, they actually get to hide the ball under some "pillows" that are enhanced by a crinkingly sound. On another page your child gets to put the ball in the basketball hoop. The ball is conveniently attached to the book with a string. We found that these books allow baby to explore sounds and texture instead of just looking at pictures like traditional board and soft books.

My Traveling ABCs
Entertaining toddlers while at the grocery store can be a challenge, and we've found My Traveling ABCs can help make it a little more enjoyable while turning your shopping trip into a learning adventure. Before heading to the store, read the "Shopping With ABCs" board book which talks about what items can be found at the store that start with every letter of the alphabet. This cute book encourages exploration with pages such as "As we strolled down the aisle my Mommy said to me, 'Can you see three kinds of fruit that start with the letter C?' Cantaloupe, Cranberries, Clementines." When you head to the grocery store you can attach the alphabet letters to your shopping cart cover and show your toddler the letter and encourage them to point out produce or other items found in the store. Or you can just encourage them to recite their ABCs. Younger babies will enjoy just playing with the letters. Each letter features a fun facial expression with colorful fabric and textures.

Small World Toys
If you are looking for high-quality toys that focus on early learning, imagination and active play (not video games), check out Small World Toys. Small World Toys carries toys like IQ Preschool, Nuerosmith and Eric Carle (of The Very Hungry Caterpillar fame). There has been recent new of stores carrying unsafe toys, not here. All of the Small World Toys catalog passes the new 2009 CSPC saftey standards and they stand behind all of our products. They are offering a discount to BlueSuitMom readers through Dec. 15, 2008. http://www.smallworldtoys.com

BlueSuitMom Discount: 20% Off plus free shipping on order above $50 with code SALE138 (make sure to use all caps).

BlueSuitMom's Working Mom Must Haves and Great Finds:

Multipurpose Gifts - Coming Soon
Books - Coming Soon


Over the next year, we'll continue to add to the list, so if you know of something we missed, please send us an email.